Protecting Critical Infrastructure
Location:
Mosul, Iraq
Sector:
Water Management
Product/Service:
Historical Analysis
Project Overview
Mosul Dam is located on the Tigris River, approximately 60 km northwest of Mosul city in the Northwestern part of Iraq. It is the largest dam in Iraq, and the fourth largest dam in the Middle East.
The dam is one of the most important strategic projects in Iraq for management of its water resources, yet it has had significant issues since its inception due to internal erosion. Studies have shown that, should the dam collapse, the resulting tsunami-like wave could flood over 7000 km2 and cause devastating results for over 6 million people.
In 2016 remediation efforts began to stabilize and repair the dam's foundation including grouting procedures and foundational improvements. In 2019, the dam's stability has been significantly improved, however, it is not a permanent solution.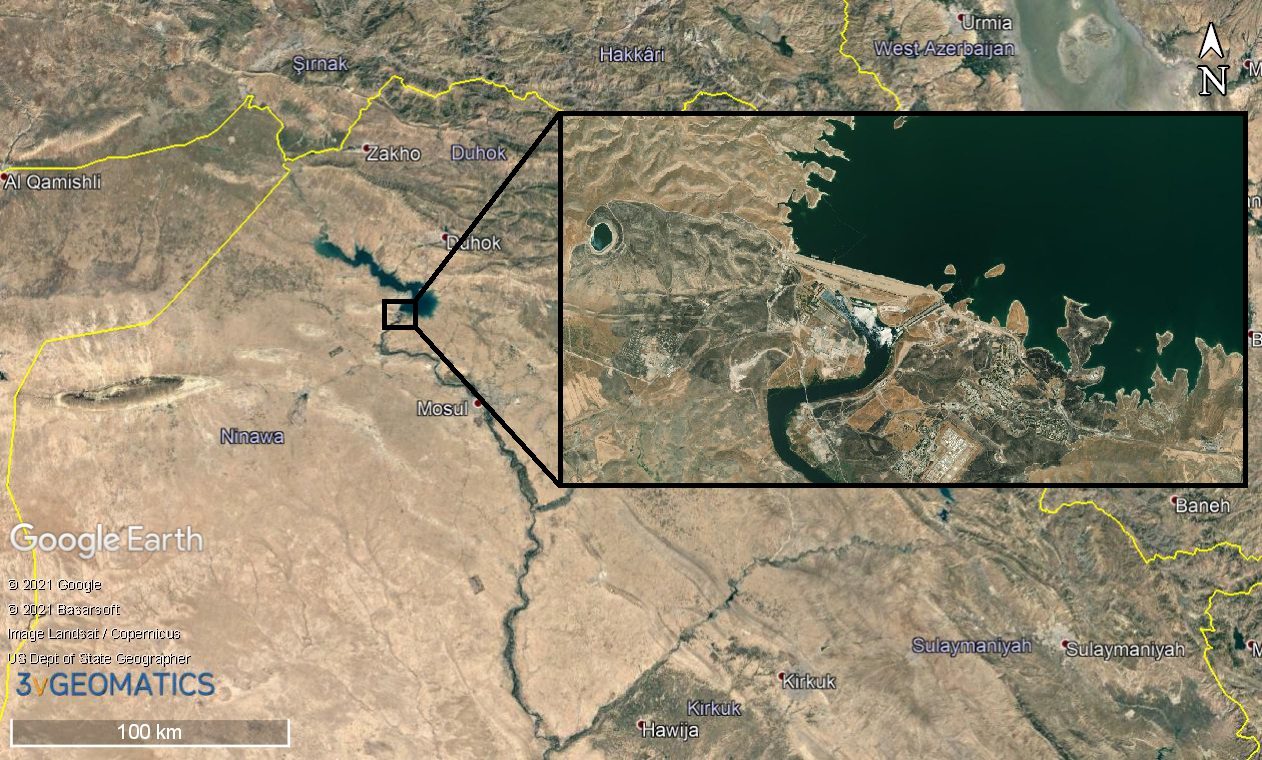 Goals
Identify hazardous active displacement areas over the dam and its surrounding area using InSAR.
Demonstrate the benefit of high-precision InSAR monitoring over high-risk areas.
Show how InSAR historical data can be leveraged to help prevent future failure of earth fill dams.
Solution/Results
Due to the extremely high risk of dam failure, it was critical for 3vGeomatics to acquire the best data to provide full displacement histories for each data point on the dam and its surrounding areas. 3vGeomatics analyzed 75 TSX spotlight images taken from 2015 to 2020. TSX spotlight images provide 25cm resolution, resulting in more than 300,000 data points over the dam and surrounding area. Results show displacement averaging 0.5 cm / year on the dam wall.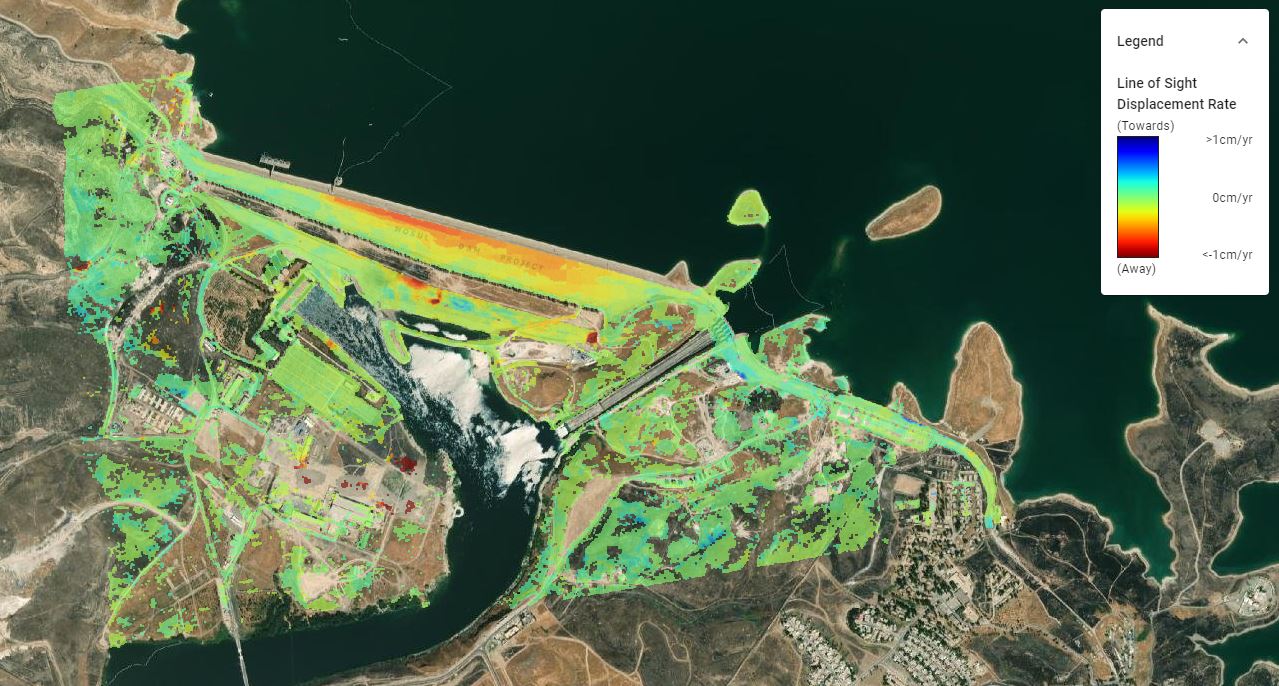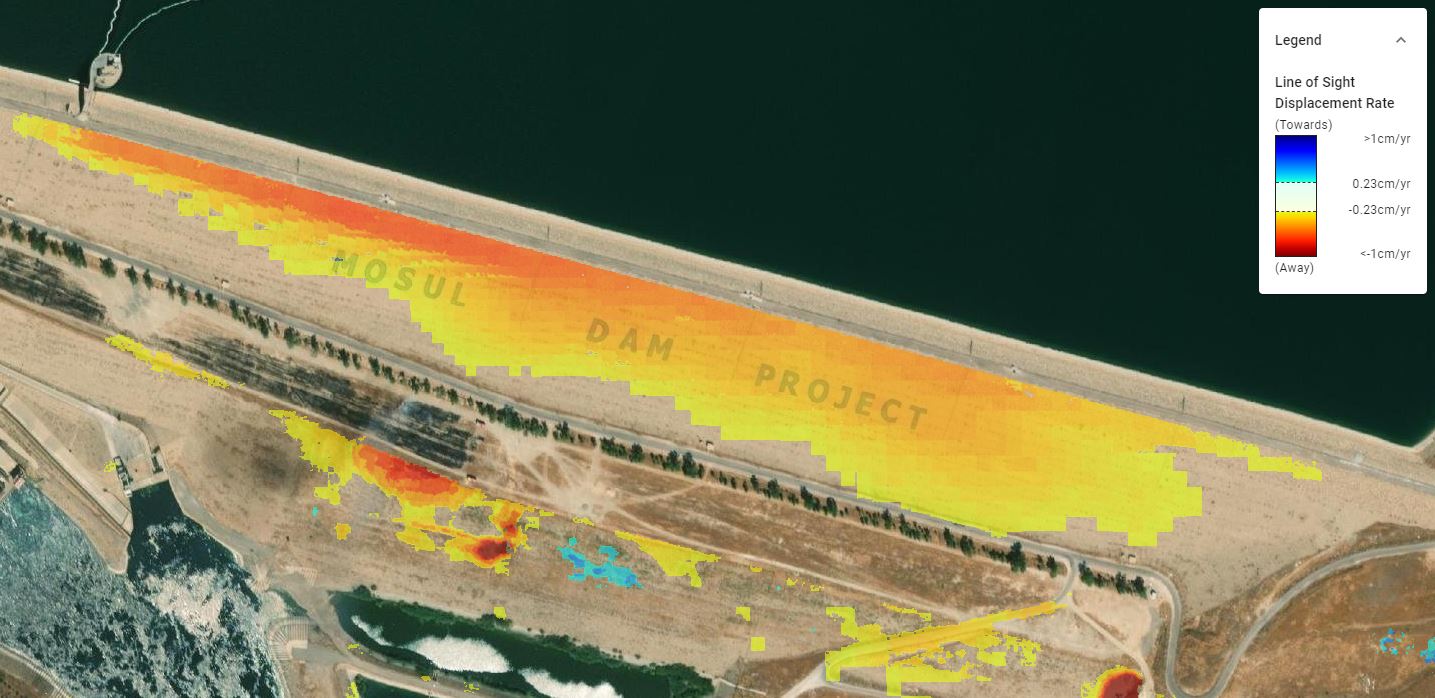 Benefits
InSAR has the ability to monitor subtle movements of critical infrastructure such as dams, reservoir slopes, and subsidiary dams on a 2 to 12 day frequency. Surrounding reservoir slopes can also be monitored, mitigating the risk of overtopping from upstream instabilities. Having an ongoing InSAR monitoring program not only provides insight into risk mitigation by developing a baseline of pre-existing conditions of this area, it also provides strong data to drive actionable intelligence.
3vG provides rapid reports within hours of image acquisition showing displacement and acceleration, providing actionable intelligence to enable immediate remediation or the issuance of evacuation notices.